Excellent Strategy for Stock Pairs with Liquid Options Markets
Here at PairTrade Finder® it is our mission to deliver the tools and the knowledge to help traders become consistently profitable. One potential weapon in your arsenal? Learn about pair trading stocks with options!
We love this strategy when deployed on the most liquid and largest market cap U.S. equities pairs with similar prices. The key is to have a highly liquid options available on each of the symbols in the pair.
Why do we love it? It offers the possibility for a U.S.-based trader to access high leverage, while at the same time containing a built-in Max Loss Stop Loss and a Time Stop to mitigate risk. Here is quick look at its pros and cons: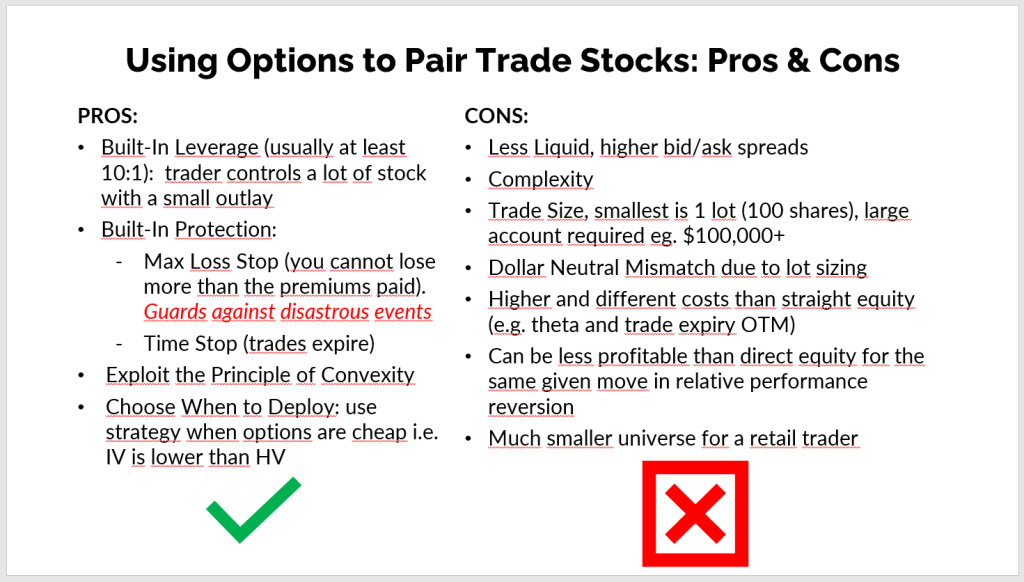 Want to learn more???
To-date there is not a lot of detailed information and examples out there on the internet of the strategy of pair trading stocks with options and how best to deploy it. Therefore, to help you understand the strategy, we are currently developing a training module to assist.
So stay tuned for our upcoming video presentation of Advanced Pair Trading 501: Using Simple Option Substitutions, coming out this fall.
In the meantime, here is an interesting older article on the subject from Andrea Kramer at Schaeffer's Investment Research, Inc., published on Moneyshow:
https://www.moneyshow.com/articles/optionsidea-23515/
You can find this articles and others like it in our Pair Trading Research Laboratory here. All part of the service we offer our subscribers to help them achieve their trading goals.
Happy trading!
Geoff, Paul and the PairTrade Finder® Team