According to top trader Martin Schwartz, trading psychology is the name of the game for success: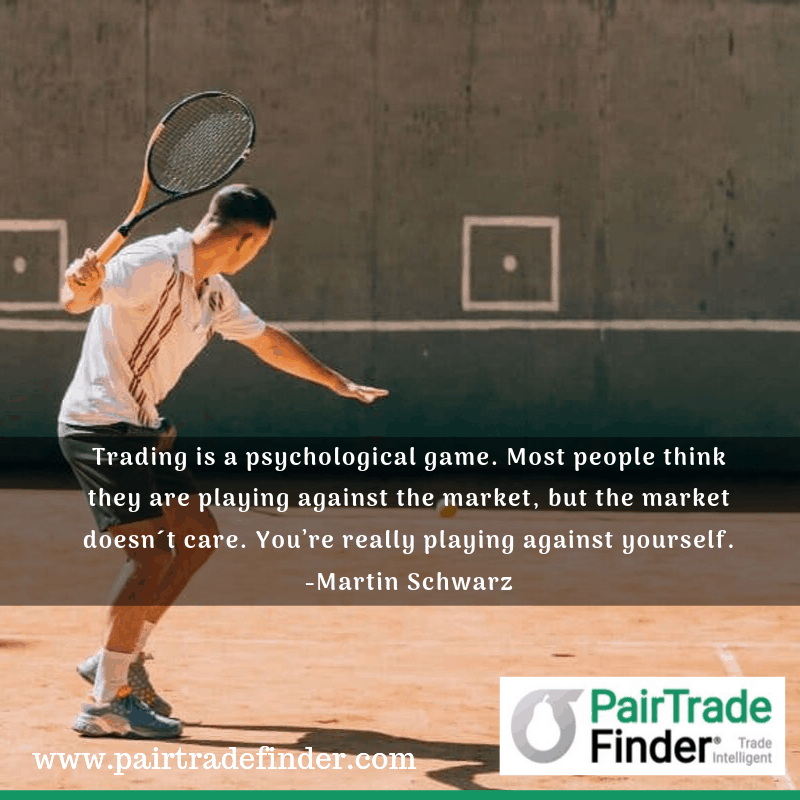 Martin S. Schwartz (Buzzy) is a Wall Street trader who made his fortune successfully trading stocks, futures and options. He received national attention when he won the U.S. Investing Championship in 1984. Schwartz is the author of Pit Bull: Lessons from Wall Street's Champion Day Trader (source: wikipedia)
Improve Your Trading Psychology with a High Probability Pair Trading System
How do you find your trading edge and master your emotions and tendencies to let it play out in the markets?
Well, we think our market-leading trading platform PairTrade Finder® PRO gives you a pretty good shot at doing so.  And it's simple to learn and use.
Having a systematic approach to your trading can help you avoid making costly emotional decisions when deciding to enter and exit trades.  Moreover, systematic trading uses rigorous backtesting to find historically profitable strategies and parameters.  It then applies these trading strategies and parameters to high-probability setups in real-time.  And by using pair trading, you are harnessing a strategy that is born from over 50 years of market success.
Use our professional-grade backtester to develop your own custom pair trading system that shows robust profitability in the past to allow you to trade with confidence in the present.
What Do You Get with PairTrade Finder® PRO?
When you subscribe to a 15-Day Free Trial of our newest trading software, PRO v2.0, our Top 30 US Equities Pairs come pre-loaded for FREE.  They will immediately begin generating high-probability trading signals for you to review.
We've also integrated PRO v2.0 with Interactive Brokers' TWS for real-time data, semi-autotrading and lightni犀利士
ng fast execution.  Pair trading has never been easier with one-click execution for each trade.
Most importantly, you will receive a Free 3-Hour Video Training Course taught by a professional pair trader, 13 Tutorial Videos, our eBook and much more.  In these resources, we will cover the trading psychology necessary to become a successful pair trader.  We will take care of you!
Not convinced? For more information regarding empirical research on the historic profitability of a stock pair trading strategy, please see our Pair Trading Resources section.  In it you will find recent academic research that rigorously demonstrates the robustness and historic profitability of this popular hedge fund trading strategy.
Let the power of modern technology and a systematic trading approach help you master the trading psychology necessary to succeed.
Happy Trading!
The PairTrade Finder® Team