Pacific Premier Bancorp (PPBI:Nasdaq) vs. Western Alliance Bancorporation (WAL:NYSE)
Watch our trade analysis below: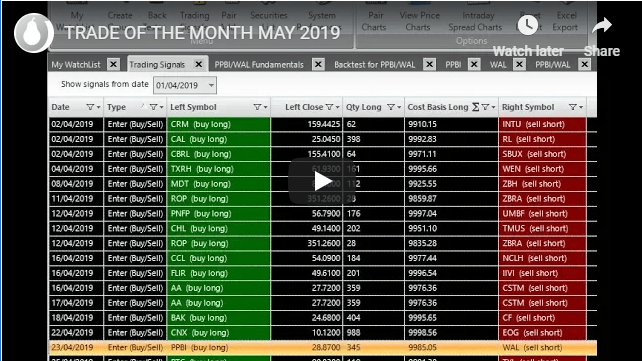 Here at PairTrade Finder® we look to trade pairs with high cointegration, correlation and win rate.
This great stock pair, PPBI/WAL, is part of our Top 30 US Equities Pairs.  In backtesting, it produced 10 trades with a 90% Win Rate over the past 2 years.  That result equates to a Total Gross Profit of $4,788, an average win of $435/trade and a 17.4% CAGR (unlevered).  What's more, these results were delivered with only a 9.1% Max Drawdown*.  It has an 82% correlation and is highly cointegrated using the Cointegration Augmented Dicky Fuller test (0.98, p-value of 0.02).
Importantly, the last trade of this pair (which was available for subscribers to trade live) closed on 7 May 2019 and generated $488 in 10 trading days on $10k/leg.  That equates to a 12.2% Return on Margin based on using the 5:1 leverage available to novice CFD traders at Interactive Brokers.
Learn to Trade Pairs Safely and Easily with PairTrade Finder® PRO
When you subscribe to our newest trading software, PRO v138, our Top 30 US Equities Pairs come pre-loaded for FREE.  They will immediately begin generating high-probability trading signals for you to review.
We've also integrated PRO v138 with Interactive Brokers' TWS for real-time data, semi-autotrading and lightning fast execution.  Pair trading has never been easier with one-click execution for each trade.
Most importantly, you will receive a Free 3-Hour Video Training Course, 13 Tutorial Videos, our eBook and much more.  We will take care of you!
And for more information regarding empirical research on the historic profitability of a stock pair trading strategy, please see our Pair Trading Resources section.  In it you will find recent academic research that rigorously demonstrates the robustness of this popular hedge fund trading strategy.
Happy Trading!
The PairTrade Finder® Team
*Backtested results of signals from this stock pair using $10k/leg for each trade and a 25 bp commissions/slippage estimate per trade.  Tested using Yahoo Finance Adjusted Close daily data and combining in-sample and out-of-sample results for the last two years.
NB: The Top 30 example US equities pairs in PairTrade Finder® PRO are provided for informational and educational purposes only.  They should not be construed as personalized investment advice. It should not be assumed that trading using the parameters demonstrated by the Software will be profitable and will not result in losses.