The Pairtrade Finder analytic generated a signal to purchase TJX Companies and Sell/short Coach.  Both companies are in the retaill space.  Coach surged on better than expected earnings, but is likely to run into resistance after climbing nearly 10%, as sales missed expectations.  TJX is scheduled to release its financial results in 2-week.  The watchlist shows the levels to enter the trade, as the stretch reached 2.7 standard deviations above the 100-day moving average.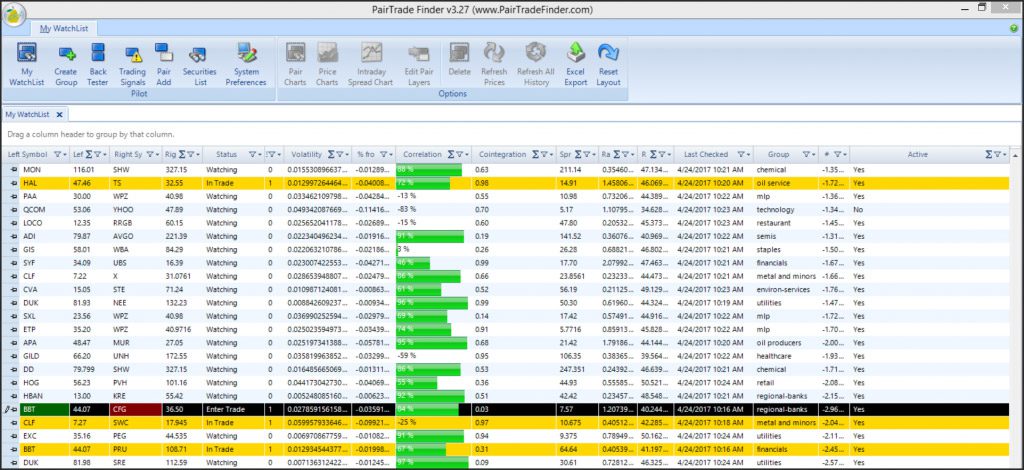 The backtest of the two stocks shows that over the past 3-years 8-signals were generated with a stretch of 2.7 standard deviations for an entry criteria, and a take profit or stop loss when the ratio (the price of COH / TJX) reverted back to 1-standard deviation below the 100-day moving average.
The results were extremely impressive. The pair has a winning percentage of 100%.  The profit per trade was approximately $550.  The overall profit on the strategy over the 3-year period is $4,407, and the average correlation of the returns of the two shares is approximately 64%.

The trading signal section will describe the number of shares that need to be transacted if you use $10K on each side of the trade.  You would need to purchase 128 shares of TJX at approximately $77.99 and short sell 233 shares of COH at approximately $42.75.  The ratio is approximately TJX/COH of 1.82, or COH/TJX at 0.43.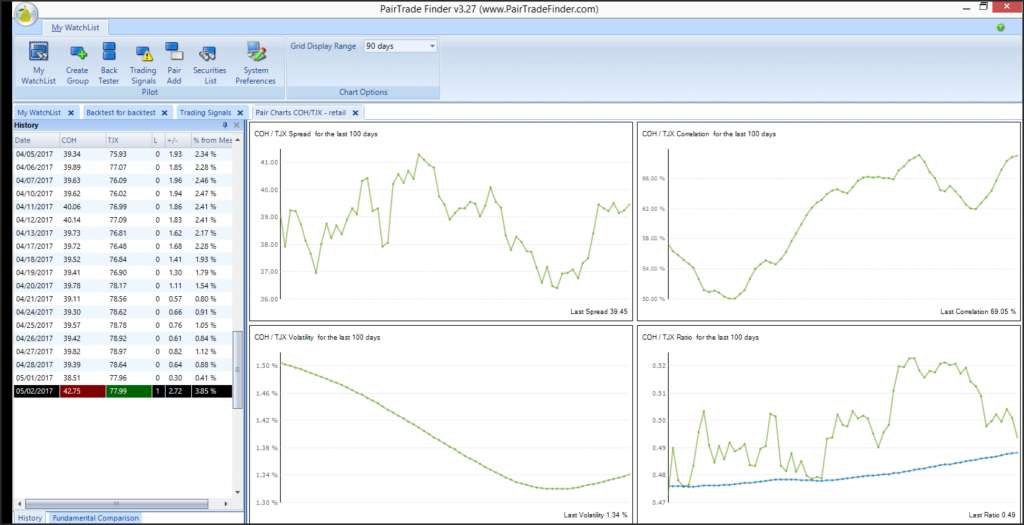 The chart of the pair shows that the ratio (lower right) tumbled to the low end of the distribution, as it chops around in a broad range.
Contact us to start your 30-day free trial of Pairtrade Finder software, the perfect software tool designed to help you easily and quickly find high probability securities pairs to trade.