Welcome to the Leading Pair Trading Software for Online Traders!
PairTrade Finder™ is the industry-leading pair trading software for online traders, having been downloaded more than 6,000 times and selling over 2,000 licenses worldwide. Created over more than eight years by a team of developers and finance professionals formerly with Morgan Stanley, Salomon Brothers Inc and GE Capital, it is a truly global platform like no other.
What and Where Can It Trade?
Our pair trading software works and is easy to learn and use. Our latest version, PairTrade Finder PRO™, automatically integrates with Interactive Brokers and IQFeed, allowing you to get real-time market data and semi-autotrade ("GreyBox") on 126 exchanges in 26 countries, including stocks, ETF's, CFDs, options, futures, commodities, forex to allow you to customize and back-test your own pair trading system.
Real-Time Trading Signals Straight to Your Email
PairTrade Finder PRO™ then gives you Real-Time or End-of-Day Entry and Exit signals from your custom pair trading system (with visual and audio alerts) and by email. Most importantly, you can back-test you pair trading system on ten years' worth of historical data to give you the confidence in your system's profitability and robustness.
Who Are The People Behind PairTrade Finder?
Pairtrade Finder™ is a service of Event Driven Investor Ltd. which was formed as the result of a decade long collaboration between two investment professionals, Geoffrey Hossie and Paul Cuatrecasas.  Both Paul and Geoff share an intense passion for public markets investing and trading. Together they have gathered more than 65 years of combined experience in managing investments.
Hedge Fund Heritage and Track Record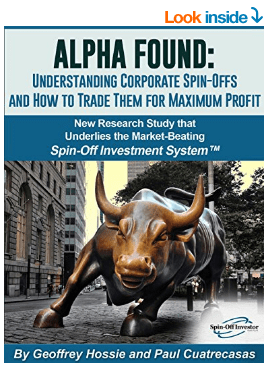 Their initial collaboration began in 2003 when Geoff and Paul pooled their ideas and experience in mergers and acquisitions, corporate restructuring and fundamental analysis and launched an FSA-authorized hedge fund. The fund was dedicated to trading U.S. and European corporate special situations, mainly through pair-trading strategies to maintain market neutrality. With high proportions of their personal net worth committed to the fund, they created an investment management company, Claridge Capital Management LLP, and the Claridge Special Situations Fund ("CSSF"), which invested successfully in these markets CLICK HERE.
Due to other opportunities presented to its principals at the time, Claridge Capital Management discontinued its investing activities at the end of 2005. Both principals remained dedicated to public and private market investing and trading, as well as their respective mergers and acquisitions advisory and private equity investment activities.
In 2016 Geoff and Paul published the book ALPHA FOUND: Understanding Corporate Spin-Offs and How to Trade Them for Maximum Profit that highlights another one of their successful investing techniques employed at Claridge Capital, the equity Spin-Off. You can find their work on Amazon here: ALPHA FOUND.
The Acquisition by Event Driven Investor Ltd.
In late 2015, Paul and Geoff received a message from Jared Mann, who founded Pairtrade Finder™ back in 2008, that the business was for sale.  A quick review of the business by both Paul and Geoff made them experience the beauty and simplicity of the Pairtrade Finder™ pair trading software for easily finding high potential long/short trading opportunities.  A quick negotiation followed in which Event Driven Investor Ltd. purchased all of the assets of the Pairtrade Finder™ business from Jared in early 2016.  Jared kindly agreed to stay on for two years with a stake in the business in order to ensure an orderly and seamless transition of the business to the new owner.
Today, Geoff, Paul, Jared and the Pairtrade Finder™ team strive to deliver to their users the simplest and most powerful trading software for initiating traders into the world of pair trading and supporting these traders to remain consistently profitable.  For further details of our software, which has been downloaded more than 6,500 times, click HERE.
Geoffrey Hossie
Paul Cuatrecasas
Geoff Hossie is Managing Director, Co-Founder and Owner of Event Driven Investor Ltd., which publishes the Pairtradefinder.com software platform.

Geoff has 28 years of experience in mergers and acquisitions, private equity, investment management and corporate finance. He has completed over 30 transactions with a combined value of in excess of US$5 billion in nine countries across four different continents as well as many corporate finance and strategic consultancy assignments for multinationals and global financial sponsors.

Currently Geoffrey is Senior Oil and Gas Advisor to the Quantum Group, an Africa-focused infrastructure and investment partnership.

He previously served as a Partner then Managing Partner of H Oil & Minerals Ltd. (an Africa-focused junior oil & gas exploration and mineral rights investment firm), Co-Founder and Portfolio Manager, together with Paul Cuatrecasas, of Claridge Capital (FSA-registered Special Situations hedge fund), Partner and Vice-President in Mergers and Acquisitions at The Monitor Group (a global private equity, corporate finance advisory and corporate strategy consulting firm with over 1200 employees in 28 offices worldwide and over $2 billion under management), Partner at the H Capital Group, a European family office with approximately $300 million of direct, significant minority equity stakes in leading Spanish and French corporations, and Financial Analyst at Salomon Brothers Inc., now Citigroup.

Geoff has a degree in Honours Business Administration from the Ivey School of Business at the University of Western Ontario, where he graduated summa cum laude, and an Investment Management Certificate from the CFA Society of the UK. He is currently pursuing his Chartered Market Technician designation from the Market Technicians Association, having recently passed Level I.

He is a dual Canadian and UK citizen and speaks fluent Spanish and French.
Paul Cuatrecasas is Co-Founder and Owner of Event Driven Investor Ltd., which publishes the Pairtradefinder.com software platform.

Paul is the Founder and CEO of the London-based corporate finance and M&A advisory firm, Aquaa Partners (www.aquaapartners.com). Previously Paul was the Founder and a Partner of the London-based investment banking firm, Alegro Capital, from 2003 to 2010. When Paul founded Alegro Capital in 2003 he also co-founded the Event-Driven hedge fund, Claridge Capital, with Geoffrey Hossie and acted as Claridge's Chief Investment Officer. Previous to Alegro and Claridge, Paul was the Co-Founder and Managing Director of ARC Associates from 1993 to 2003. (ARC Associates was a leading independent London-based TMT mergers and acquisitions advisory practice with a full range of blue chip, private equity and entrepreneurial clients).

Paul has directly or indirectly completed over 40 M&A transactions around the world worth over $10 billion and over 50 corporate finance advisory and strategic consultancy assignments. He has directly or indirectly originated and structured over 15 private placements of equity capital raising over $500 million. He also directed the ARC investment programme and achieved a historical professional investment track record over 50% IRR from 1994 to 2000.

Prior to ARC Associates, Paul was a Senior Associate with Arkwright Capital (ex-Bain & Co. partners), an M&A and Corporate Finance advisory firm in London (1991-1993) and with GE Capital in their LBO and Restructuring Group in New York (1989-1991).Paul is a Non-Executive Director of Motive Television plc. He holds an MBA from Columbia University where he was awarded the Roswell C. McCrea Scholarship Prize and a BA from Wake Forest University.

Paul holds dual US and UK citizenship and speaks fluent Spanish.
Geoffrey's LinkedIn Profile
Paul's LinkedIn Profile